GRADE LEVEL/AGE GROUP:
Upper Elementary, Lower Elementary, Kindergarten, Pre-Kindergarten
NUMBER OF INDIVIDUALS PROGRAM SERVES:
About the Program:
Through the Living Laboratory program Greater Newark Conservancy has brought Newark Public School children outdoors to explore nature. This garden is becoming a diverse and vital resource for the entire school community. Children are not simply observers of nature but active stewards both benefactors and beneficiaries of the produce of the garden. Cultivating the garden gives students a direct connection to where food comes from.
Program Members: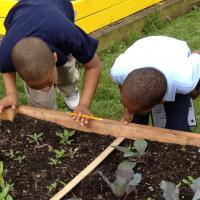 Sarah O'Leary